Free Online Ordering & Booking
For Restaurants & Takeaways
unlimited orders with ZERO monthly commissions
The cheaper alternative to just eat & deliveroo, easily add to any website

Online Payments
Your Subtitle Goes Here
Take online payments for pre-orders, table bookings, food delivery and collections.
Taking your payments in advance avoids issues with prank orders or customers not turning up.

Food Pre-Ordering
Your Subtitle Goes Here
Give customers the VIP treatment and improve productivity by allowing customers to pre-order their food before they arrive.
Customers will love the fact that they do not have to wait for staff to take their orders and then wait for their food to be cooked.
Table Reservation
Your Subtitle Goes Here
Get more bookings FAST by placing the "Table Reservation" button at the top of your homepage or facebook page.
Real-Time Reporting
Your Subtitle Goes Here
See what promotions work best and where you can improve everything directly from the visual reporting module.
Missed Order Alerts
Your Subtitle Goes Here
If you miss an online order due to being too busy or loss of Internet connection, the system can be set you call you with an alert so that you can call the customer back.

Restaurant Promotions
Your Subtitle Goes Here
Includes a built-in restaurant promotion module so you can create incentives for new or returning customers.

Multiple Delivery Zones
Your Subtitle Goes Here
Create multiple delivery zones on the map, each with their own delivery times, minimum order settings and delivery charges.
Sales Optimised Website
Your Subtitle Goes Here
Don't have a website? No problem, you can use our sales optimized website template to get up and running instantly with no hassle.
We can build you a bespoke website solution using WordPress.

Onsite Payment Options
Your Subtitle Goes Here
Specify payment options for pickup, order ahead and delivery.
Payment options: Cash, credit/debit card, payment to the delivery driver, payment in the restaurant, request a callback to pay by card.
Take orders from your website or Facebook page
If you have an existing website, we can easily integrate our online ordering and table booking buttons. If you don't have a website, no problem, we can help with that too.
We even cater for those customers who almost never leave Facebook.
Simply add the "See MENU & Order" button to your Facebook page and your customers will be able to easily place orders, while your page will become more interactive than ever.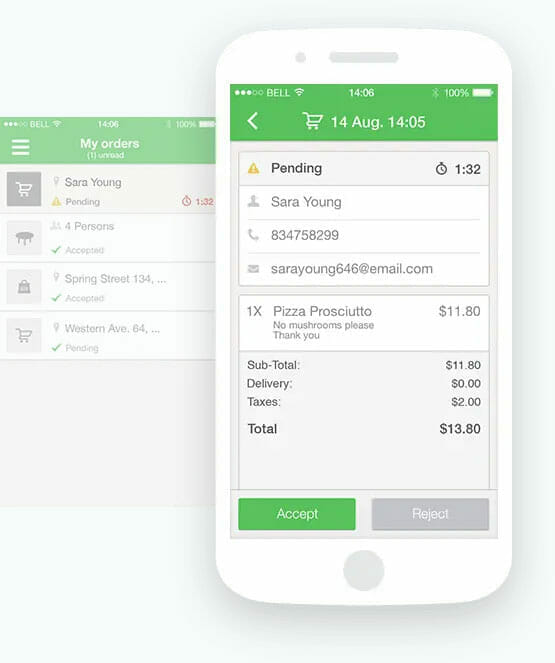 Accept orders on any mobile device
Get all your restaurant's online orders in one place with the simple order taking app.
When an order is placed from your website, Facebook or mobile app, you get it instantly pushed to your Android or iOS device where you can accept or decline the order.
You can use your existing mobile device or purchase a dedicated POS terminal.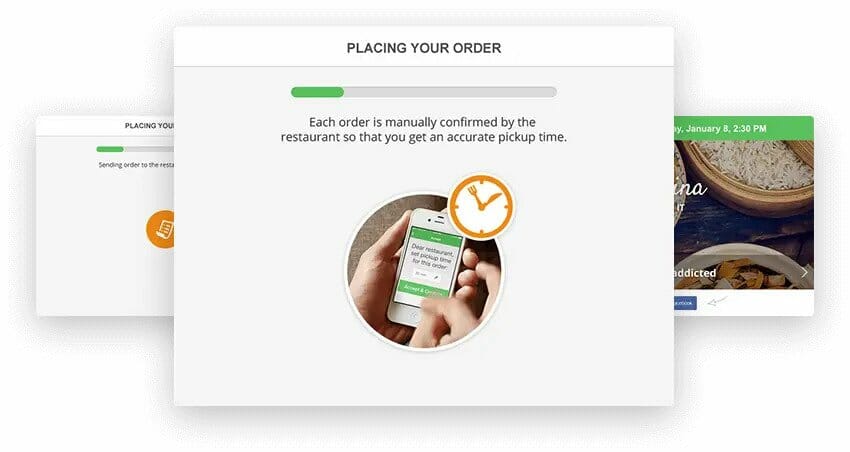 Real Time Order Confirmation
After placing an order, your client holds the line for the next 3 minutes, 
just enough time for you to confirm the pickup or delivery.
No busy phone lines or misheard orders. 
Just you, your clients and a clean & intuitive interface that serves both parties.
TRY IT FOR FREE
Try out food booking for free using the DIY plan. No commitment, no setup fee.