Publish the menu in a Sales Optimized Website
The Sales optimized website was built for one purpose only, to help restaurants sell online. Every decision we took in terms of design, search engine optimization (SEO) was made to serve this purpose first. Any other conflicting need was ignored or only implemented in a way not to hurt the first goal (SEO and online sales). Last but not least, we wanted to offer this at an affordable price. We are able to offer this at an affordable price because it is self-service template without any customization support, only offering minimal personalization options via the self-service interface.
You can see how the sales optimised website looks on the demo site here.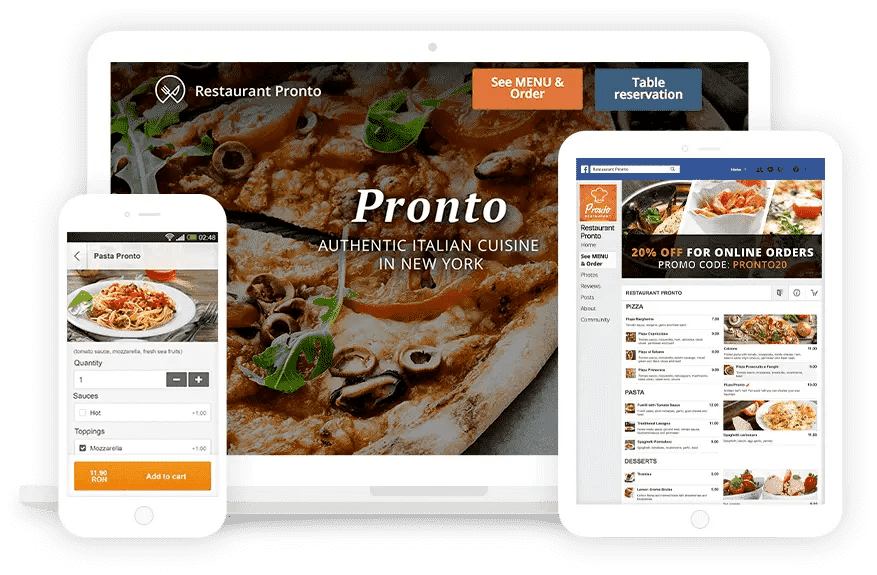 If you require something more customizable, then we do also offer custom website design options built with Wix or WordPress. Please get in touch for more information.
Regarding the "Sales Optimized Website" (SOW) – paid service:
With our system, a restaurant can build instantly a mobile-friendly website that's highly optimized for search engines. A domain name is included and everything is designed to generate more online orders.
If a restaurant already has its own domain name to connect with the Sales Optimized Website:
The restaurant can use an existing domain name to point to this sales optimized website. After purchasing this website service we display a form to insert the access details to such existing domain name registrar. Please provide the details to configure it so the existing domain name points to this website.
If a restaurant already has its own hosting:
The sales optimised website is a custom-built proprietary system which includes hosting, which means we cannot use external hosting. Having a super-fast responding website required us to build using on our own underlying hosting providers.
The restaurant account holder will be able to choose this when setting up SOW service in the admin area. Like this:
Public preview of the site before the purchase is also possible by using the share button on the website editor zone. Like this: