When done right, Facebook advertising targeting can bring in new customers, boost sales, and put your restaurant on the map. But if you're a beginner and you've never created an ad, you might be wondering how to target an audience on Facebook ads to increase your conversions. I'm going to provide you with 10 Facebook Ad Targeting Tips to Boost Restaurant Conversions and ensure you will pay less for conversions while refining your audience.
10 Facebook Ad Targeting Tips to Get More Customers
1. Start with your existing customers and fans
Especially if you're new to Facebook advertising, it's good to start slow by targeting people who already visited your restaurant or liked you on Facebook. I'm talking about former customers and fans. For these people, your ads are highly relevant, more than they would be for a complete stranger.
You can target the first segment (existing customers) by creating a Custom Audience. Choose "customer list" to input a list of email addresses of your former customers so that Facebook can show them your ad.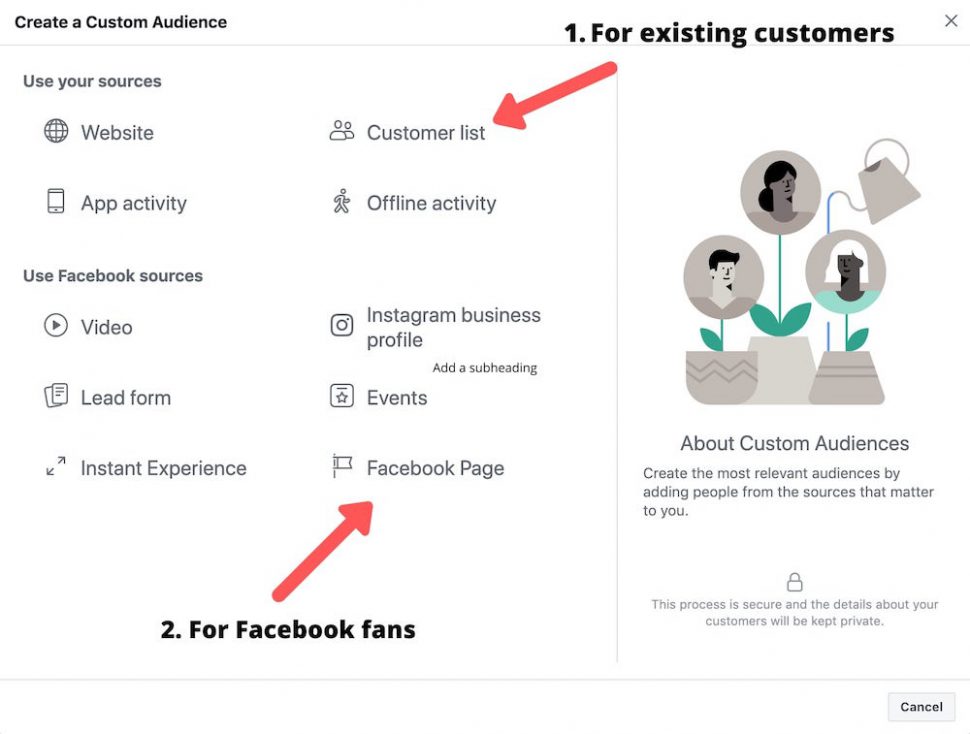 As for the second segment (fans), choose "Facebook page" to show your ad to people who interacted with your page in one way or another. You are more likely to spend less and gain more by targeting fans than complete strangers. They are already interested in your restaurant so they're one step closer to becoming return customers.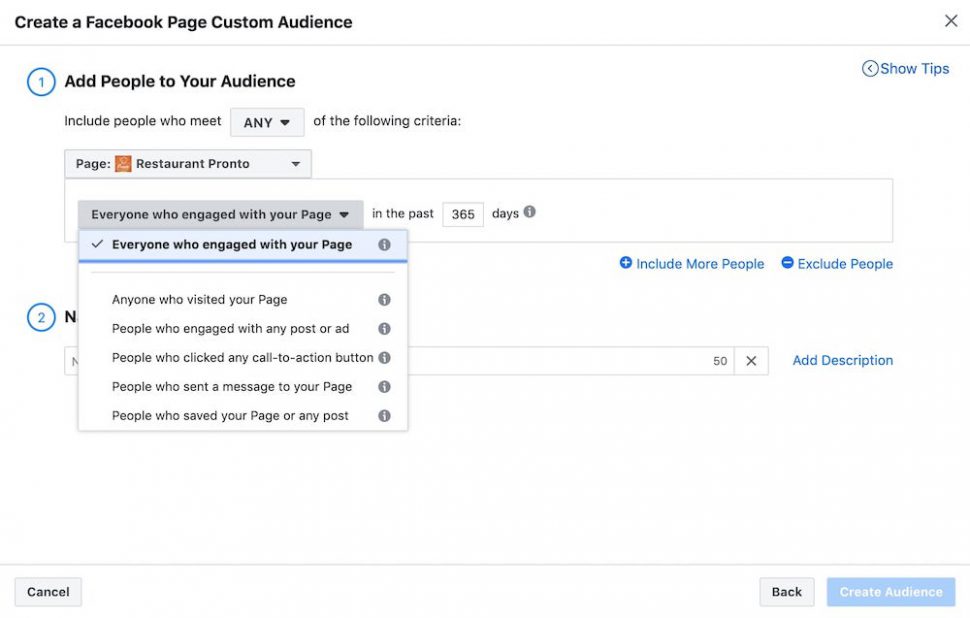 2. Take advantage of Audience Insights to learn more about your audience
If you're yet to narrow down your Facebook ads target audience, know that there are several tools that can help you. One of the best ones is Facebook Audience Insights. You can find it in your ads manager, under Shortcuts.
In Audience Insights, you have two options: learn more about all Facebook users or just about those who are already your fans. Choose the first option and go to the left sidebar to fill out the location, age, gender, interests, connections, and pages of the segment that interests you. You can also click on Advanced to finetune your search by adding a relationship status, work, education, politics, and more.
This Facebook audience targeting tool will tell you more about their lifestyle and interests, income, family, the pages they like, the activities they enjoy, where they travel to, what they purchase, and more.
Check out the example below where I filled out a potential audience for a Chinese restaurant located in Tucson, Arizona.
As soon as I filled out all the details I knew, Facebook provided me with additional information about my audience on the right side. I'm going to turn this into some great Facebook ad targeting tips for you. This is what I found out:
64% of my audience are women
39% of my audience is married
My audience clicked on approximately 39 Facebook ads in the last 30 days
73% of my audience visits Facebook on their mobile devices
Now, what can I do with this information?
I could offer a family promotion for 30% off to people who bring their entire family to dinner and target people who are married and have kids with an ad. Another idea would be to organize a ladies' night where women drink for free and advertise that on Facebook for just women to see.
3. Advertise "unicorn content"
Your audience is not the only thing you should finetune when it comes to targeted Facebook ads. Your content should also be targeted. This is where "unicorn content" comes in – the type of content that will explode on social media, driving traffic and engagement, and also rank high on search engines.
Be careful though – what counts as great content on a blog might not necessarily be great for social media. To see what works on Facebook, check which of your posts got the most engagement. Then, repurpose them for ads, and experiment until you find the format that your audience clicks with (video, infographic, etc.) Test each of them to see which works best.
4. Use Lookalike Audiences to find new customers
After targeting people who already interacted with you or your page, it's time to also look at people similar to them. Facebook lets you do that in Lookalike Audiences. These people share characteristics like age, location, gender, occupation, and so on with the people who already interacted with you. This is how to find potential customers on Facebook that would be more inclined to dine with you than others.
5. Combine two audiences to finetune your search
If you're not entirely certain about your Facebook ad targeting demographics, or if you find one audience is still too broad, you can combine it with a second one, even though at first glance, the second audience may seem unrelated.
For example, let's say you're the owner of a Mexican restaurant and you want to create an ad that promotes your upcoming Valentine's Day promotion. You can target people who like Mexican cuisine, spicy food, and dishes like taco, burrito, enchilada, etc. You will find all these options in Facebook's detailed targeting section. But what if Facebook tells you the audience is still too broad?
Try adding Valentine's Day as an interest and target people who are in a relationship, engaged, married, and in love. The audience will narrow down, allowing you to target the right people, just like in the example below.
6. Save money by setting exclusions
Every time your ad is shown to someone who has no interest in what you have to offer, you're wasting money. To avoid that, specify segments that you don't want to target on Facebook.
A good example of a group of people you can exclude is those who have already liked or interacted with your page. If the goal of your new ad is to get more Facebook likes, it makes sense that showing it to people who already like it would be a waste of your money.
7. Target life events for holidays and special occasions
As a restaurant owner, your calendar should be full of targeted events celebrating different holidays. The good news is your customers, as well as people on Facebook, celebrate the same holidays. Not just that, but Facebook Ads Manager allows you to target people based on their life milestones – a new relationship, a new job, newly engaged, and so on.
How does that help you? Here's one of the many targeted advertising examples you could try: create an ad featuring a 20% discount for newly engaged couples to celebrate the love on Valentine's Day (or any other day of the year). Then, show it to the people who matter – those who Facebook knows got engaged recently. You can find them in the detailed targeting section if you just type in their relationship status.
8. Consider income when targeting your audience
Depending on what kind of restaurant you own, you're going to want to show your ads to people with a specific income. If you own a fine cuisine restaurant, target people whose net worth is higher. If you're the owner of a fast-food restaurant and you offer delicious food at low prices, you can target college students who are more likely to look for cheap places to eat. Facebook income targeting is a must-have step in any ad campaign.
9. Look at your audience's purchasing behaviour
Facebook knows much more about you than you might think. It knows your interests, relationship status, future plans, and so on. This is good news for you as a restaurant owner looking to create a Facebook ad because you can learn more about your audience's purchasing behaviour.
One of the main subcategories of Facebook's behavioural targeting in terms of purchasing is Food & Drink. This category is segmented even further to help you target the right people. For instance, you can choose to target "engaged shoppers." These are the people who have clicked on the "Shop Now" button in the past and are more likely to click on yours too.
Remember that the page the user lands on when they click on your, let's say, "Book Now" button should persuade them to finalize the action. Below is an example of a page that makes it easy for the customer to book a table by featuring the table reservation button twice: once in the header and once below the fold.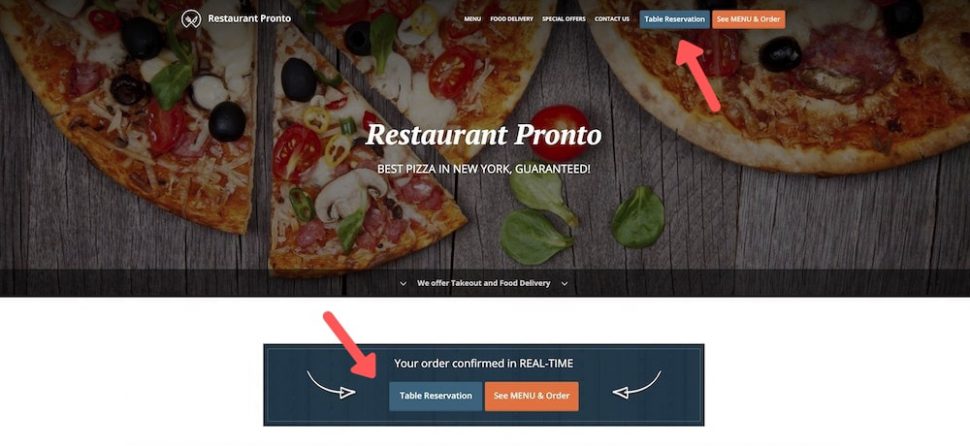 If you like the website above, you can get your own using our instant website generator feature. The process is so easy, you can start taking orders and table reservations today.
Get Your Own Sales Optimized Website for Just £9/month
10. Use Narrow Further
Facebook's targeting capabilities are endless. You can optimize Facebook interest targeting to show your ad to people based on their interests. Another option is to use Facebook location targeting to target customers based on where they're located (geo-targeting). You can even focus on Facebook behavioural targeting if you want your ad to reach people with a specific purchasing behaviour, for instance.
Did You Know: When you choose the location you want the ad to run in, you can also focus on a specific radius. What is radius targeting? A feature that allows you to target people within a certain distance from your restaurant.
The good news is that you can narrow your Facebook ad audience size even further. For instance, if you targeted people who like Mexican cuisine and live in Tucson, Arizona, you can click on Narrow Audience and specify that they have to be single and like brunch.
This leaves you with a defined audience that you can target with an ad for a delicious singles brunch where the mimosas are 50% off.
However, keep in mind that the best audience size for Facebook ads is not necessarily the most defined. If you get too specific, the number of people your ad will reach will shrink considerably and you might miss out on a lot of potential customers.
Bottom Line
These Facebook ad targeting tips will help you identify the right people to show your ad to and persuade them to become your customers through highly relevant, extremely targeted ads. For the best way to target Facebook ads that deliver, try a combination of the tactics above. When it comes to finding the right audience for your content, it's important to experiment and test out different ad types and styles until you figure out which works best for different audiences.
If you've ever created a Facebook ad for your restaurant, get in touch. I'd love to hear about your experience and any other Facebook ad targeting tips you might have.