How to Promote New Menu Items: 13 Tips & Tricks
Whether you're coming out with a brand-new menu or adding one to a couple of new items to it, you're going to have to promote it as much as possible. Target both regulars and new customers and ramp up the excitement until the big release day. Here's how to promote new menu items with a dash of creativity, a spoonful of hard work, and a pinch of commitment. Find out how to promote New Menu Items Without Breaking the Bank.
How to Promote New Menu Items 101
1. Start by Teasing the Items on Social Media
Social media is going to come up in this article more than once since such a large variety of food promotion ideas work there. For now, use it to tease the new releases. You can do a poll on Instagram stories asking people to weigh in on what the new dish might be before you reveal it. The first person to guess correctly will get it for free when they visit your restaurant.
Image teasers also work like a charm on Instagram, especially accompanied by a catchy new menu caption and a customized hashtag. Come up with a creative hashtag specifically for this menu release and use it whenever you promote the item on social media.
You can also tease the new menu items on Facebook by sharing the story behind how you came up with them. Add to that a couple of behind-the-scenes photos of your chef preparing the dish and an exclusive quote from the staff who has already tried it, and you're good to go. The key to learning how to market food is to get the customer to crave it. I don't know about you, but I always salivate when seeing food being prepared.
2. Include The New Menu Items in a Promo
What better incentive for customers to try the new dishes than a discount or a freebie? You could offer a 30% discount on the item the first week after launching it or bundle it up with something else at a special price. To get people to try it with their friends, do a buy-one-get-one-for-free promo.
3. Offer Free Samples
Before the new menu has even launched, entice customers by giving them a taste of the dishes. Offer a free sample to customers who are getting ready to order. If it's a hit, you can bet customers will want to order it when they visit again or tell their friends about it. If it's not, at least you'll get precious feedback and find out what you can improve or if you should scrap the item altogether.
4. Send Emails/a Newsletter
If you have a list of emails from those who are already your customers, send them an email alerting them that there's a new item on the menu. To show them you reward loyalty, offer them an exclusive coupon code that they can redeem to get a discount on the new dish. Make sure the coupon has an expiration date to motivate customers to visit you sooner.
The text of your email should create urgency and include a convincing call to action. Alternatively, if you send out regular newsletters, make one entirely focused on the new menu items.
5. Take Customers Behind the Scenes
This is another strategy where social media comes to play, in which the more transparent you are about the new menu item, the better. Show customers how it's done and share information like its ingredients, why you decided to add it, what the inspiration behind it is, etc. Videos are a plus, so consider interviews with your chef and staff gushing about the items.
6. Ask Customers to Share the Love
Motivate customers to spread the word about your new menu items by offering them discounts or free meals. The condition? For them to share your posts on social media, use the hashtag you've created, check-in to your restaurant when they come to try the new product, etc.
If you don't know how to come up with menu item names, you can even create a contest on Facebook in which you ask customers to name them and share the post with their friends. The most popular names will get to try it for free together with a friend, because sharing is caring, especially when it comes to food ?
You can do something similar on Twitter where people who retweet your post announcing the new menu item will get to try it before anyone else does in an exclusive menu launch event.
7. Contact Influencers
Here's how to promote new menu items to local foodies: via influencers. Local influencers are a gold mine when it comes to raising interest in a product. Get in touch with some and ask them if they want to be part of an exclusive tasting just for influencers. They can try the dishes for free before anyone else and post about them on their social media. Imagine the number of people who will be dying to taste them after seeing that.
You can find local influencers using SocialBakers.
8. Announce the New Dishes on Your Website
Your website is one of the most relevant places to post about new menu items. Anyone who visits it should see you have new additions to the menu. Ideally, add a note that shows on all pages, not just the homepage. Sometimes, when people visit your website via Google, they don't always land on the homepage.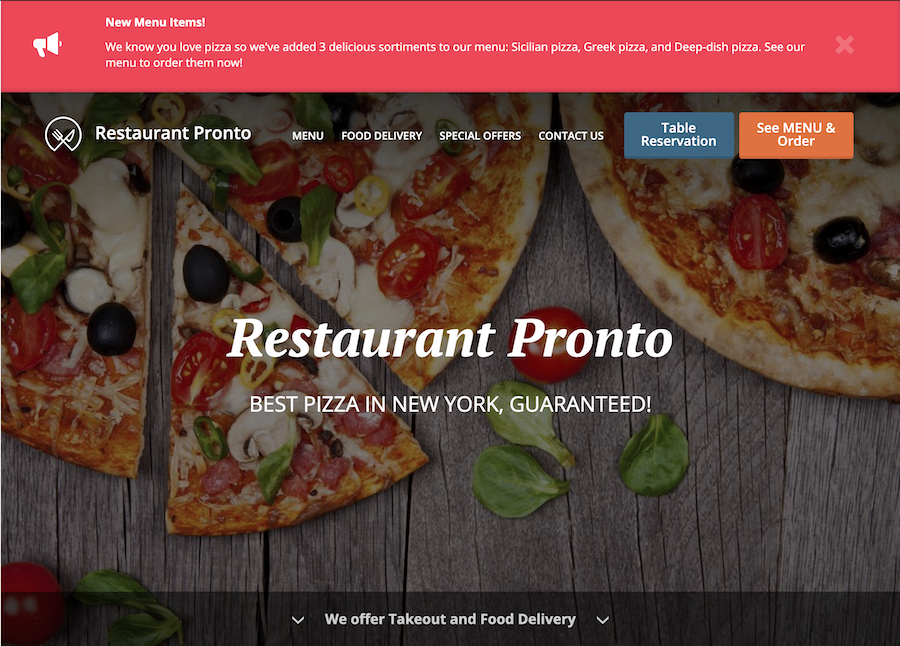 9. Highlight the New Dishes in the Printed Menu
Customers should be able to tell which items are new just by looking at your menu. From adding a small "NEW" text next to them to dedicating an entire menu section to new items, if there are several of them, new additions should pop. To make them irresistible to customers, add mouthwatering photos.
10. Put out a New Menu Launch Press Release and Contact Food Critics
Contact newspapers in your area and craft a press release for them, gushing about the new menu items. Consider getting in touch with local food critics as well, even if they're not affiliated with a newspaper. Their voice counts for something with local foodies who will be much more excited to try your new dishes if food critics rave about them.
11. Train Your Staff to Talk to Customers About the New Items
You can't learn how to promote new menu items if the entire staff isn't on board. Your team should be able to promote the new items like none other. They should know everything there is to know about them – how they are made, how they taste, the ingredients, what makes them unique, etc.
When customers are unsure of what to order, they can suggest new items, especially if they have a discount. The staff must have tasted the dishes beforehand so that they can offer an accurate food description and share information about how they taste.
Organize a tasting night with them in which they can also share any feedback they might have. You will get to improve on the product before it sees the light of day.
12. Print Promotional Materials
Stick a new menu launch poster to your wall. Add tabletop stands to each table, and distribute flyers around town or place them in takeaways bags. There is a wide range of print materials that can help you spread the word about your new menu items.
You can try to give an exclusive discount for online ordering and add it to your takeaway bag flyers. That way, people who usually order from you online can enjoy an offer that's just for them.
Download our online ordering flyer template for new menu items. You can customize it to fit your purpose.
13. Consider Facebook Ads
The best way to make sure your Facebook post reaches many people is to create an ad targetting people in your area. You can choose to target people who like your page or those who like your competitors' pages.
Learn more: 10 Facebook Ad Targeting Tips to Boost Restaurant Conversion
P.S.: If print ads work in your area, give those a shot as well.
Conclusion
Introducing a new food menu can be a lot of work in itself, without even considering the promotion. Still, the dishes might end up buried somewhere at the bottom of your menu without you learning how to promote new menu items. We hope these restaurant ideas have sparked your creativity and that your new menu items will be a resounding success.